News
From day one, Contrary's mission has been to identify the brightest, scrappiest, and most talented builders in the world, and support them for life. Alongside many other initiatives, we do this with our community - and for the past 6 years, our Venture Partner (VP) program has been its heart.
It not only provides us the opportunity to build with and learn from ~80 of the world's most talented students, but we also get to work with them to identify the next generation of transformational founders and companies that we should bring into the Contrary family.
Each year, we run a rigorous selection process to identify a small group of VPs to add to the team. This year was no different. From an initial application pool of close to 1,000, we selected 28 new VPs to join our ranks. They are a diverse group of builders, founders, and technologists who are aligned with our values and share a deep, abiding love for early-stage startups.
In addition, each year, we identify a singular Venture Partner who has gone above and beyond to serve as our VP Chief of Staff. This year, we're thrilled to announce that Jaclyn Chan is joining us in this role. She has proven herself to be an exceptional builder who is deeply committed to fostering and leading an exceptional VP community. Already, she has been instrumental in helping us recruit and onboard this year's cohort, and we couldn't be more excited to work with her this year.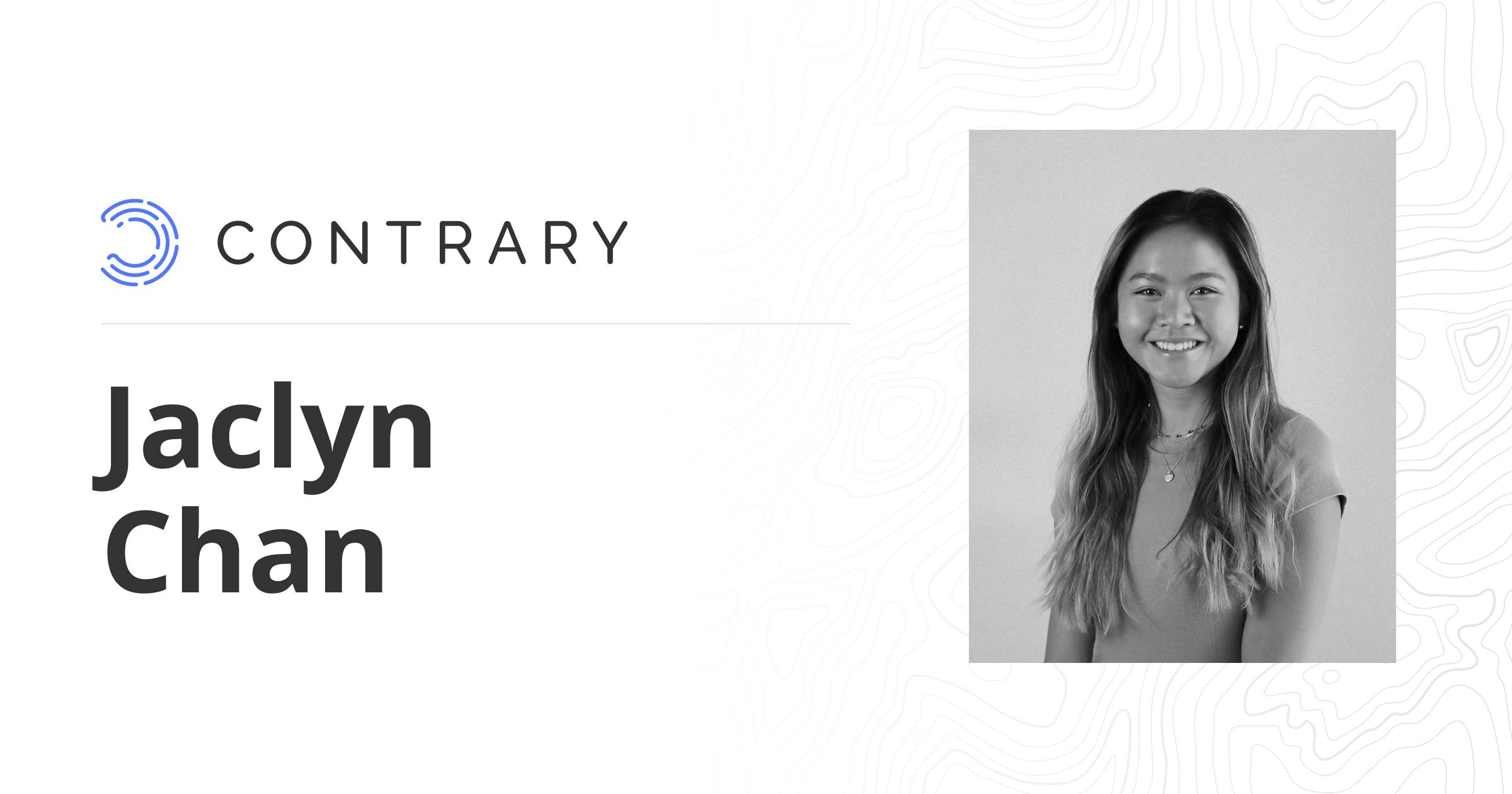 And without further ado, welcome to our 7th cohort of Venture Partners!
Northeast
---
Anika Ayyar - Harvard
I'm currently a first year MBA student at HBS. Prior to starting business school, I spent 3 years as a Product Manager at Google on Search & YouTube, and 1.5 years as an early-stage investor at Scale Venture Partners. At Scale, I focused on MLops, computer vision applications, and product & design tools, and I'm eager to continue exploring the intersection of machine learning and design. In my free time I enjoy trivia and crosswords, cooking, and traveling.
Peter Zhu - Brown
Hey! I'm Peter, a sophomore at Brown University. I was a software engineer at the UK's largest tele-psychiatry company, then head of engineering/product at a health-tech startup. I love learning about new fields and seeing ideas cross pollinate, meeting all different kinds of people, and nature.
Ayushi Sinha - Harvard
Hi! I'm an MBA candidate at Harvard Business School and invest in early-stage startups with Contrary. Previously, I worked as a Product Manager at Nines, where we built ML for radiology, and as a Software Engineer & PM at Microsoft. I graduated cum laude with a degree in Computer Science from Princeton University, where I co-founded Princeton's first student-led VC, Prospect Student Ventures, to invest in student founders and teach core concepts of venture capital. I also co-founded the startup WellPower, a vertically-integrated Uber for water filtration and distribution in East Africa. In my free time, I make one friend at a week at friendaweek.substack.com and design South Asian-inspired athleisure at Yustha Yoga.
Curren Iyer - Harvard
I am a first-year MS/MBA at Harvard Business School and Harvard School of Engineering. Prior to Harvard, I was a Solutions Engineer at Adobe leading enterprise customer deployments for the Marketing & Commerce Platform, then a Product Operations Manager at LinkedIn launching proprietary sales tools to scale our go-to-market to $10B in revenue. After LinkedIn, I spent a few months as a Product Manager at Warp, a devtools startup redesigning the terminal. Outside of work, I am the CEO of Techquitable, a nonprofit helping Black and Latinx college students break into tech through mentorship from software engineers in industry. In my spare time, I love going to concerts, watching tennis, and traveling to all 50 US states (36 so far).
Rocky Gowni - Penn
Hi! I'm Rocky, a 1st year MBA student at Wharton. Prior to Wharton, I worked in the San Francisco/Bay Area in data science & analytics functions across consulting, venture capital, and fintech. I'm passionate about operating, building, and investing at the intersections of data, software, and finance. As with any true Bay Arean, I love spending time outdoors, recently this has expanded into more backcountry trekking & camping. I also love watching/playing sports - namely soccer, golf, and cricket. 
Ethan Tan - Harvard
Hey! I'm Ethan, an undergrad from Singapore studying Computer Science and Statistics at Harvard College. I'm a crypto enthusiast - I've been in the space for 2 years now, and previously was an analyst at a Singapore-based crypto VC. Prior to that, I led two nonprofits focused on education and sustainable investing while serving as a lieutenant in the Singapore Army; the process of scaling and fundraising for my organizations was my gateway drug into the entrepreneurship space. I currently advise an EdTech startup in the Philippines, and am also working on a venture of my own - watch my socials for updates, maybe? 👀
Rose Wang - Penn
Hey everyone! I'm Rose, and I'm a sophomore at Penn studying business and computer science. I'm interested in agriculture and food tech, and overall, creating positive sum games. Outside of Contrary, I build web apps for nonprofits and lead student innovation funds on campus. Previously, I've butchered, made charcuterie, and worked on a permaculture farm, as well as at seed stage ag-tech and civic-tech startups, political campaigns of all sizes, and launched two nonprofits. I love traveling and have previously lived in Morocco, France, and Hawaii. In my free time, I enjoy reading science fiction, brewing kombucha, and Supreme Court Cases.
Brandon Zhang - Columbia
Hey everyone! I'm Brandon, a third-year studying History and Psychology at Columbia. Prior to Contrary, I spent time working in growth at On Deck and Maven (both Series A, Ed-tech adjacent companies). I'm currently an analyst/scout at an angel fund investing in areas including AI, Dev Tools, and Fin Tech. I'm looking forward to meeting talented builders and founders on campus and in New York City. In my free time, I enjoy snowboarding, playing basketball and exploring NYC.
Elaine Liu - MIT
Hey! I'm Elaine Liu, a first-year at MIT studying electrical engineering and computer science. I'm super interested in hardware/microtechnology/design for health and safety, as well as ethical entrepreneurship and public policy/political theory. Before joining Contrary, I spent a lot of time working on my nonprofit for young girls in engineering, learned how to make almost anything hardware in Fab Academy, and did machine learning biotech research on hereditary cataracts. I interned at a full-service product development firm last summer as well and did a lot of fun PCB and product design work. In my free time, I love hunting sunsets, sketching, painting, and longboarding.
Shaamil Karim - Dartmouth
Hi! I'm a freshman at Dartmouth College studying Computer Science and Economics. Prior to joining Contrary, I took a gap year to build India's largest NFT marketplace and raised a $1 million seed round led by Contrary Capital. At Dartmouth, I row for the Lightweight Varsity team and I'm involved with Dartmouth Investment and Philanthropy Program and the Venture Capital club. I love meeting new people and learning about their journeys!
Natasha Maniar - MIT
Hi! I'm Natasha, currently a student at MIT and originally from SF Bay Area, CA. Having worked at 2 startups in healthcare and autonomous vehicles, I am passionate about the early stage ecosystem overall in consumer tech and B2B SaaS. I'm particularly excited about digital transformations in these industries and the potential for AI/ML to revolutionize existing models. On campus, I'm the co-president of MIT's Women in Business Leaders and also enjoy hosting events for Startlabs, our undergraduate entrepreneurship organization. When I'm not working, you can find me in the dance studio, exploring different cuisines and quaint towns in Europe, or catching sunsets.
Jonathan Pierre - Yale
Yo! My name is Jonathan and I study math and philosophy at Yale. In the past, I've held product/ops roles at community tech startup Intros AI, diversity-focused accelerator Envision, and talent marketplace Clora. At Yale, I built YES Incubator, a community for Yalie builders. I'm passionate about socially-minded tech and interested in fintech and ed-tech. I love spending time getting deeper in my faith, reading, going to the gym, and trying new foods.
Anne Brandes - Harvard
Hi! My name is Anne, and I am a Venture Partner at Harvard. I am a sophomore in the College studying Computer Science, Mathematics, and Philosophy. Most recently, I have been involved in the blockchain community as a member of the Andreessen Horowitz (a16z) crypto deal team. Before crypto, I was interested in investigative journalism as a reporter for POLITICO. I am very interested in learning more about AI alignment, anti-trust legislation, and algorithmic game theory.
William Zhang - Harvard
Hi! I'm William, a first-year studying computer science at Harvard. Prior to Contrary, I worked at various technology startups and was the founder of Hydra, a security/AI research team with MIT CSAIL. I love eating good food, playing poker, doing calisthenics, and working on fun side projects.
Brett Seaton - Penn
Hey! I'm Brett, a sophomore at Penn studying finance and computer science. Before coming to Penn I was a product manager at Column and interned in the US Congress and US Senate. While at school, I became fascinated with the future of ownership, so I co-founded Tryvest.us, which enables private companies to give stock-back to their customers. I also recently joined the Daily Pennsylvanian's opinion team where I write about trends and events in technology. In my former life, I was a state-champion tennis player and a published author of poetry books. When I'm not being pre-professional, I love to fish and do water sports in northern Minnesota, play pickup basketball, and brainstorm twitter threads.
West
---
Calix Huang - USC
Hey there, I'm Calix! I'm a freshman at USC and the Iovine & Young Academy, studying at the intersection of Arts, Technology, Business, and Communication. In high school, I worked at a variety of seed/Series A startups like Fiveable, Beacons.ai (YC S19), Uiflow (YC W21), and I also founded a few of my own startups, two of which were acquired. Now, I'm focused on building out new ideas and projects while also expanding the startup ecosystem and culture here at USC. My favorite books are Grit by Angela Duckworth and Atomic Habits by James Clear. Feel free to reach out and chat with me whenever!
Alishba Imran - Berkeley
I'm a Berkeley freshman and machine learning developer working on accelerating industrial problems in manufacturing/automation and energy storage. I'm currently doing machine learning and robotics research at Berkeley AI research (BAIR). A bit about me: I led ML research projects at Cruise to commercialize over 50 AVs in San Francisco, conducted research at SJSU/the BLINC lab to reduce the cost of prosthetics from $10,000 to $700 and developed neuro-symbolic AI methods for Sophia the Robot. Previously, I also co-founded and developed Voltx, a software platform that utilized ML + physics models to accelerate battery testing and materials discovery. We were a venture-backed startup and piloted our work with various OEMs and manufacturing companies to accelerate their battery testing time from months to just a few days.
Myra Deng - Stanford
Hi! I'm Myra, a first-year MBA student at Stanford GSB. At Stanford, I'm exploring the world of AI/ML fairness and transparency, as well as the intersection of tech and social impact. Prior to Stanford, I worked at Two Sigma Investments as a software engineer and product manager building quantitative research platforms. I also spent some time working on various impact-related projects — including building climate software for a California water district to conserve water usage. Before that, I graduated from Columbia with a degree in Computer Science (Intelligent Systems) and Applied Math. In my free time, I love reading fiction, cooking, and culinary tourism!
Josh Pacini - BYU
Hey! I'm Josh, a sophomore at BYU studying Computer Science and Economics. Prior to joining Contrary, I worked as the Chief of Staff at an early-stage ML company in San Francisco and at Battery Ventures, where I was focused on B2B SaaS investing. I grew up in the UK and Hong Kong, and since returning to the US I've been obsessed with all things related to startups and early-stage investing. You'll likely find me reading sci-fi, working out, or playing chess in my spare time.
Matthew Mella - BYU
Hi! My name is Matt Mella; I'm studying applied computational math at BYU. I've spent most of my life in Utah and the SF bay area. I've always loved math & science, and always dreamed of being an inventor. My goals shifted throughout high school and I was hard set on physics academia, but eventually rekindled my passion for building exciting technology. I've worked at a couple of startups since then, first at a recently-founded eCommerce aggregator doing data analytics for our M&A and Product Dev teams, and now as an ML engineer at another startup.
Chloe Chia - Berkeley
Hi! I'm Chloe, a first-year at Berkeley. Began my founder journey in sophomore year of high school where I built Munch, an NLP food-ordering-by-SMS startup for restaurants. When it was acquired, I was the first growth hire at a YC company. Then, sent a cold email that flew me to Arizona and worked on Culdesac, the US's first car-free neighborhood during my senior year of high school. Broadly interested in spatial design, and also dabbling in crypto through Blockchain at Berkeley. Very excited to run Contrary events and establish a builder culture at Berkeley. I'm also pretty active on Twitter, so feel free to DM me there.
Megha Jain - Berkeley
Hi! I'm Megha, a junior at Cal studying CS + Business. I care about creating software for good - specifically to increase efficiency within energy, transportation, and logistics. Previously, I've worked at Southern California Edison (socal's lead energy utility) and Banyan Infrastructure (a fintech startup increasing efficiency within renewable energy infra project financing). For fun, I like to read, curate my not-so-little excel sheet of the best Bay Area eats, and hack on various side projects ranging from productivity to renewables!
Emma Casey - Stanford
Hey! I'm Emma, a sophomore studying computer science and economics at Stanford. I took a gap year before starting college and worked on the strategy team at Podium, a growth-stage SaaS company, and the investment team at Album VC, a seed-stage venture firm. Currently, I'm organizing Stanford's oldest and largest pitch competition (BASES $100K Startup Challenge) and working as a PM intern at Leland, an edtech marketplace startup. I also produce a podcast and blog called Seed Stage Stories for college students interested in entrepreneurship. In my free time, I enjoy running, playing guitar, listening to health podcasts, and reading great books!
Simba Jonga - Stanford
Hi, Simba here! I'm a Stanford engineering graduate student with a focus on operations research. My passions lie at the intersection of economic equity, tech (deep tech), and global venture. My career so far has been a "random walk" to say the very least; being a founder, PM, engineer, researcher, analyst, and investor - all across varying disciplines from enterprise software, AI, Biotech, and Energy to VC, and many more in-between. I've co-developed a platform that serves minority entrepreneurs and received 1st place in Microsoft's internal venture competition. I've also co-founded Rease, a platform for the college student-renter market, and pioneered UT's 1st student-led venture accelerator that serves student entrepreneurs through funding, resources, and mentors. I'm particularly interested in innovations in enterprise AI, fintech, consumer, clean-tech, and biotech but I'm also a sucker for all kinds of innovation. I consider myself a global citizen, and will pack up my bags to travel somewhere new, so please reach out with recommendations! Some of my hobbies include literally anything outdoors, rugby, boxing, writing, poetry, and art.
Daniel Longo - Stanford
Hi, Daniel here! I'm a technical undergrad with a passion for building products and leveraging ML. Currently, I'm building closed loop ML based optimizations for ecommerce storefronts. In the past, I've worked in edtech building learning tools for k12 students and have developed ML models in the healthcare setting.
Midwest
---
Mukundh Murthy - Michigan
Hey everyone! I'm Mukundh, a sophomore at UMich studying CS and Math/Bio. Before joining Contrary, I've interned at Cellarity, a sister company of Moderna under Flagship Pioneering, and Asimov, a synthetic biology startup based in Boston. Right now, I'm broadly interested in how we can use machine learning to better understand biology and more efficiently design therapeutics. In my free time, I love folding origami, backpacking, reading, cooking Indian or Mexican food, and most recently, making electronic music.
Kruti Mehta - UChicago
I am a first year student at the University of Chicago Booth School of Business. Prior to Booth, I was working on growth and strategy initiatives at Zeta Charter Schools, a startup network of free public charter schools in NYC. I'm passionate about the public and social sectors, with specific interest in PK-12+ education, workforce development, financial inclusion, and access to justice. Hobbies include cooking for the people in my life, being anywhere in the sun, hiking through National Parks, and trying to figure out how I can live more sustainably.
South
---
Srilakshmi Medarametla - UVA
Hi! I'm Srilakshmi and I'm studying computer science at UVA. I've been interested in tech since high school and have worked the past four summers in A.I.-based projects researching knowledge graph evaluation and cryptocurrency data analysis as I'm passionate about using technology to create positive impact. On Grounds, you might find me writing for the Cavalier Daily, helping organize our annual hackathon, HooHacks, or working with Contrary to build up our entrepreneurial community, specifically in tech. In my free time, I love to hang out with friends and family, work on side projects, read a good book, and eat chocolate-chip cookies.