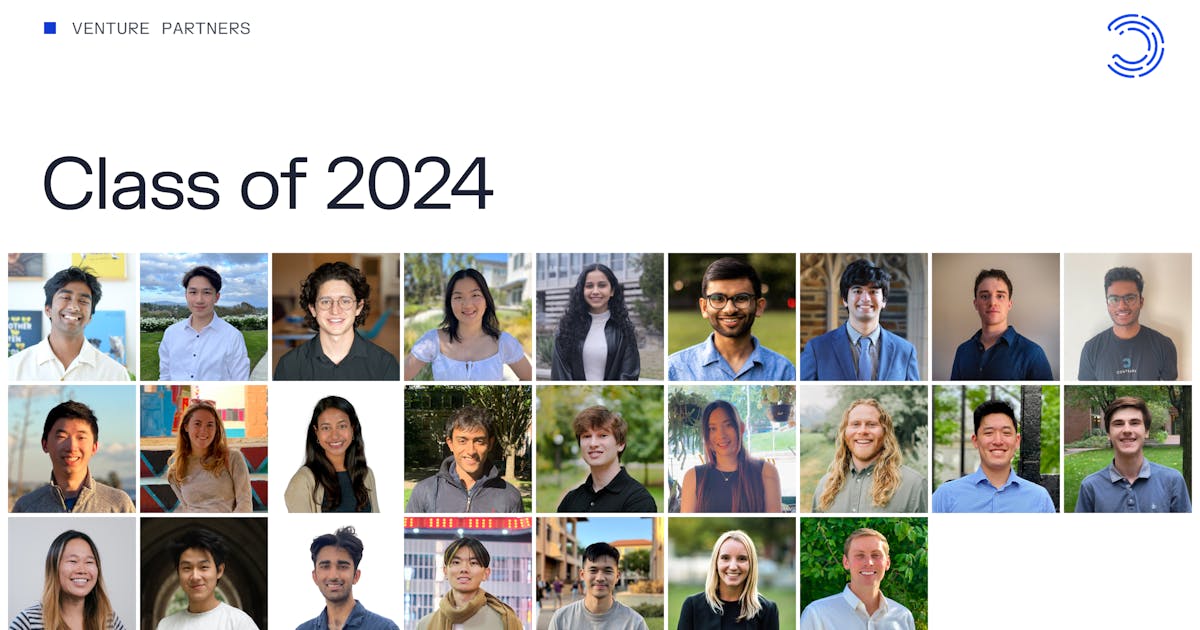 News
Contrary's goal is to identify and invest in the world's top talent. With this approach, we've been early investors in iconic companies like Ramp, Anduril, Zepto, and many more.
Our Venture Partners are a critical part of that mission, helping us meet the next generation of exceptional founders and companies coming out of universities across the US and Canada.
Each year, we run a rigorous recruitment and selection process to identify a small number of VPs to join our community. This year, we received nearly 1300 applications, of which we ultimately accepted 25.
They are a diverse group of exceptional builders, founders, researchers, investors, writers, engineers, and everything in-between, and we are thrilled today to welcome them to the Contrary family.
In addition, we select one exceptional Venture Partner each year to join our investment team as Chief of Staff. This year, we're excited to announce that Josh Pacini from BYU is taking on that role. A veteran of two early-stage startups, as well as a stint with Battery Ventures, Josh will be instrumental in helping us continue to build the very best venture and builder community in the world.
Welcome Josh, and welcome to our newest cohort of Venture Partners!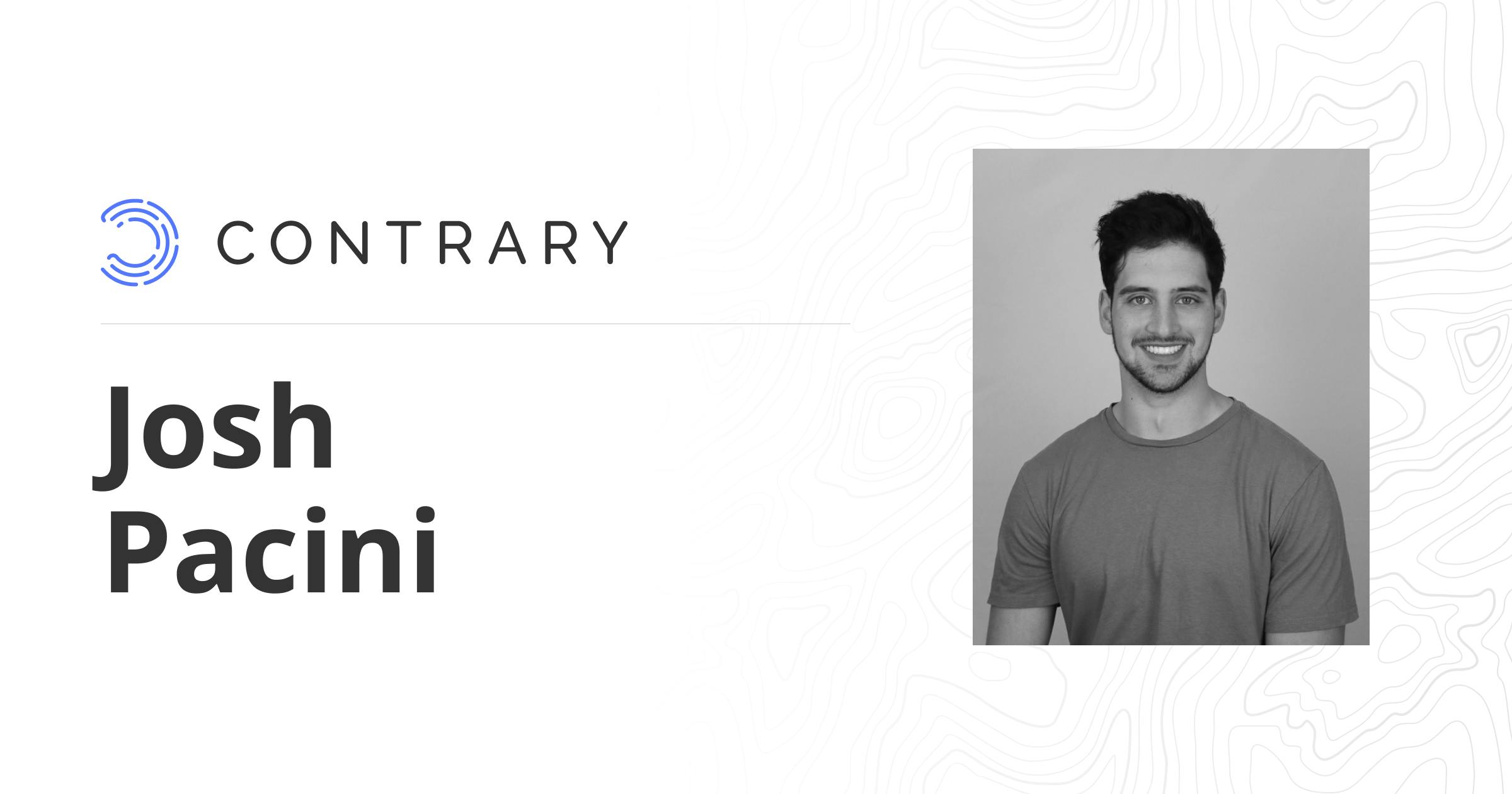 And without further ado, welcome to our 8th cohort of Venture Partners!
Northeast
---
Claire Wang - MIT
Hey! I'm Claire, a first-year undergrad at MIT studying computer science and neuroscience with a possible minor in public policy. I'm interested in biotech/neurotech as well as creative solutions for anything within these deep tech pipelines. Before Contrary, I've was deeply involved in Hack Club and similar hacking/hackathon/startup circles, and fell in love with building and creating things at all times. I've also done academic research in the fields of computer science, neuroscience, and math, which motivates my interest in deeper tech startups! I'm a Spotify fanatic with >200 playlists, am addicted to all forms of caffeine, and will always be down for any adventure!
Ethan Zou - MIT
Hi! I'm Ethan, a first-year MBA student at MIT Sloan. Prior to business school, I developed AI applications for strategic enterprise customers at C3 AI and empowered customers to build apps at the speed of thought at Retool. Before that, I studied computer science and statistics at Harvard. Outside of school, I'm a tennis player at heart, but am a recently converted pickleball enthusiast and an aspiring crossword constructor!
Tanner Johnston - MIT
Hey there! I'm a first-year MBA student at MIT Sloan where I'm attempting to narrow down my interest in mobility, defense, climate tech, and healthcare. Prior to MIT I worked at Lucid Software leading integration partnerships and building out a corporate development function, and at Vivint Smart Home on a strategic innovation team incubating new IoT products and services. I graduated from BYU with a degree in mechanical engineering. When I'm not on campus you'll find me riding bikes around Cambridge, lifting weights, watching The Little Mermaid with my daughter, or looking at mid-century modern homes on Zillow.
Annabel Strauss- Harvard
Hi! I'm Annabel, a first-year MBA student at Harvard Business School. Prior to HBS I was a Product Manager at Instagram working on real-time communication features, and then a PM at Uniswap leading the web application. I'm passionate about supporting founders and have done this throughout my career, from co-founding Envision Accelerator (the first equity-free accelerator for underrepresented founders) to investing as a BCV scout. Outside of work I love skiing, gallerying hopping, and traveling.
Kabir Sial - Harvard
Hey! I'm currently a first-year MBA student at Harvard Business School. Previously, I spent almost 5 years in engineering and product roles at Palantir in New York and London, as well as a few years investing in early-stage software founders. True to my Palantir roots, I'm passionate about building and investing across data, AI and pretty much all things software, especially at the early stage. In my free time, I enjoy weightlifting, playing golf, trying new Thai restaurants, and listening to podcasts (my favorite one is Acquired!).
Nina Prabhu - Harvard
Hi! I'm currently a first year MBA student at HBS. Prior to starting business school, I worked as a Product Manager at MasterClass and in Product Operations at Instagram. These experiences provided me with valuable insights into scaling growth within consumer-oriented enterprises and harnessing machine learning to enhance recommendations and content discovery. I'm eager to continue exploring the application of AI in the edtech and wellness industries. In my free time I enjoy hiking, boutique fitness classes, cooking, and traveling.
Jonathan Lei - Harvard
Hey, I'm Jonathan, a student at Harvard. Since 11th grade, I've been running TensorDock, a cloud GPU marketplace. Here, I help build software that orchestrates and audits distributed infrastructure. On the side, I collect airline miles (go Alaska MileagePlan!) and dabble with angel investing. From semiconductor design or outbound sales, I'm interested in learning about pretty much anything, so feel free to reach out anytime—I'm sure there's a lot I can learn from you.
Rohit Datta - Columbia
Hi! I'm Rohit, a 1st year MBA candidate at Columbia Business School. Prior to Columbia, I was the cofounder of Formspree, a dev tools API startup to submit forms on your website. Prior to working on Formspree, I was a software engineer at Apple, working on cloud infrastructure. I graduated from The University of Texas at Austin with a double major in computer science and finance. In my free time, I love cooking, running, skiing, traveling, and anything in the outdoors!
Ethan Wei - Brown
Hello! I'm Ethan — a first year at Brown studying Computer Science and Design Engineering. I'm broadly interested in human computer interactions and consumer software. Prior to joining Contrary, I was a Research Fellow at Chapter One Ventures and interned for EV charging, civic-tech, and web3 startups. I'm currently relaunching my weekly newsletter and tackling side quests in random skills such as CAD and sushi-making. In my free time, I watch furniture-making videos, play and watch basketball, and bakery-hop.
Jack Zhang - Princeton
Hey all! I'm Jack, a sophomore at Princeton studying computer science and math (also super interested in policy and behavioral economics). Prior to joining Contrary, I worked as an ML engineer at Hydrus.ai, a climate intelligence startup automating a lot of the ESG workflow and providing insights to reduce emissions. I'm particularly passionate about deep tech and fintech startups, and I also love reading NLP and interpretability papers. In my free time, you can catch me missing serves in spikeball, burning roux's, and overdosing on sparkling water.
Diego Pasini - Penn
Hi! I'm Diego, and I'm a new VP at Penn studying computer science and economics. I love building things, and am excited about the future of robotics and hard tech startups. I am especially interested in potential applications in agrotech and transportation. At Penn, I am involved in research with the Agricultural Robotics group in the GRASP lab. Previously, I have worked on UAV wildfire hotspot surveillance. In my free time, I love exploring the outdoors with friends, running, doing taekwondo, and am a huge history buff.
June Zhang - Penn
Hi! I'm a first-year MBA student at Wharton. Prior to Wharton, I spent my career building customer success and support functions at early-stage startups in Austin and Philadelphia. Most recently, I was the Head of Customer Success at UserEvidence, a seed-stage company building a better way for marketing teams to capture social proof. Before that, I was the first support hire at Guru, an AI-powered knowledge management platform. I'm excited about how software can change our working worlds, especially with the rise of AI and remote work. As a Venture for America alum, I'm especially interested in founders building companies in non-traditional tech hubs. Outside of work and school, I love spending my time going to concerts, dinking on the pickleball courts, and attempting the NYT crossword.
Emily Li - Carnegie Mellon
Hey, I'm Emily, an undergrad at Carnegie Mellon studying Computer Science and Robotics. I am passionate about bridging academia and consumer products in the AI industry and am currently doing multimodal deep-learning research at the CMU Robotics Institute. Before joining Contrary, I drove the development of critical SOTA multimodal sensor fusion algorithms at Modern Intelligence, and redesigned computer vision / pose estimation systems to be 5x faster and more accurate at Evolution Devices. Before that, I spent a few years founding and working on my nonprofit which provided opportunities for high school students to be more involved in scientific research. I love meeting new people, building side projects, cooking, and exploring the outdoors!
Shagun Maheshwari - Carnegie Mellon
Hi there! I'm a student at Carnegie Mellon majoring in Material Science Engineering and CS. I am also a machine learning developer working on accelerating new materials discovery with data driven methods for applications within climate change. I'm currently doing machine learning research in collaboration with Meta AI as part of The Kitchin Group at Carnegie Mellon. Prior to CMU, I was the CEO and co-founder of Voltx, a machine learning platform that utilized ML + physics based models to accelerate battery testing and materials discovery. Most recently, I applied my machine learning and battery modeling skills at SpaceX where I was the responsible engineer for software/modeling on the battery & solar team. I love meeting new people and jamming out about the future, goals, and dreams! Please feel free to reach out to me to chat.
West
---
Aislin Roth - Stanford
Hey! I'm Aislin, a first-year MBA student at Stanford GSB. Prior to Stanford, I completed a pre-MBA internship in growth equity at Georgian, one of Canada's largest growth equity funds investing primarily in growth-stage B2B SaaS companies. I started my professional career as a consultant at BCG, and I also spent a year working at a venture-backed hoteltech start-up called Life House - a vertically-integrated hotel software and management platform dedicated to making independent hotels operationally autonomous. I grew up in Canada and I have an undergraduate degree in business from Queen's University. In my free time, I love to travel (50+ countries), hike, ski, and cook.
Shrinandan Narayanan - Berkeley
Hey, I'm Shrinandan! I'm a sophomore at UC Berkeley in the M.E.T. program studying Electrical Engineering, Computer Science, and Business Administration. I'm currently exploring consumer tech with a focus on LLMs. Prior to Contrary, I interned as a software engineer at Whatnot (YC W20), where I focused on automating and optimizing their seller outreach and onboarding processes. Recently, I co-founded usechameleon.com, an intelligent resume repository designed to uniquely organize and tailor your resume for every job application. On campus, I'm a venture associate at Free Ventures (zero-equity startup accelerator), project manager at Venture Strategy Solutions (startup consulting org), and am excited to be a part of the AI Entrepreneurs Fall 2023 batch. In my free time, I enjoy watching football, cooking good food, playing pickup games, and settling down for a good chat!
Andre Xiong - Stanford
Hello! I'm a first-year MBA candidate at Stanford GSB and I'm passionate about the future of consumer technology. Prior to Stanford, I led personalization and monetization initiatives as a Senior Product Manager at Hulu and Disney+. I studied Computer Science at Princeton, where I published research in Human-Computer Interaction and was a founding member of the IgniteSTEM EdTech conference. In my free time, I enjoy playing Super Smash Bros, following the Warriors, and listening to true crime podcasts.
Arnuv Tandon - Stanford
I am a sophomore @ Stanford studying CS. Prior to Stanford, I founded a seed-stage pet-tech company. Didn't work out - our original hypotheses about the market were incorrect - but learned a lot. I now work at the intersection of AI and the physical/life sciences. I've done work with soft-matter — using deep learning to predict the thickness of any dynamic thin film from interference patterns — and am currently working on projects in the single-cell foundation model domain. I was born and raised in the Bay Area, and love cars.
Andrew Gao - Stanford
Hi! I'm studying Computer Science and Bio at Stanford and am interested in generative AI and health. I'm from San Diego and love sunsets. Previously I was a hacker in residence at LangChain and a ML research intern at UCSD's Supercomputer Center.
Jacob Wright - BYU
Hey! I'm Jacob, a third-year at BYU studying computer science and math. I'm a builder at heart. My founder story first started at age 12, with a service-based power washing company with two of my brothers. Currently, I am a co-founder of Proxy--a clean energy product marketplace. I'm passionate about health & fitness, biohacking, AI, and energy. In my free time I enjoy weightlifting; my current PRs are 305 lb Bench, 405 lb Squat, and a 455 lb Deadlift.
Midwest
---
Cooper Saye - Michigan
Hey there! I'm Cooper Saye, a sophomore at the University of Michigan studying computer science and mathematics. I'm currently a software engineer at Ramp, where I've built a SaaS pricing intelligence platform for 15,000+ businesses, a vendor credits system for their multi-billion dollar Bill Pay product, and a procurement custom forms solution for customers with more than 10,000 employees. I'm passionate about all things entrepreneurship, with specific interests in fintech, applied artificial intelligence, and productivity. On campus, you can find me helping out at Michigan Hackers, Michigan's largest tech club, or V1 Michigan, our premier community for student builders. In my spare time, I love to build web experiments, collect domain names, and listen to lo-fi music.
Gillen Heisler - University of Chicago
Hey there! I'm a first-year at Chicago Booth. I came to Booth from Uber, where I led electric vehicle (EV) growth and created "Comfort Electric," the largest EV rideshare product in the world outside of China. I previously worked at a climate-focused venture fund, Commonweal Ventures, Deloitte, and started my career as an Obama White House intern focused on innovation policy. A native of Atlanta, I attended Georgia Tech where I studied business and Mandarin Chinese. In my free time, you can find me planning my next travel adventure or cooking with my fiance, Kevin.
South
---
Conner Aldrich - Duke
Hey all! I'm Conner and I'm a first-year at Duke studying computer science and philosophy. I've been interested in tech and software for a while, starting an open source project and community in my freshman year of high school. I'm fascinated with modernizing enterprise and government technology, so I've spent the past several years building and operating a govtech company, and recently started an AI consultancy firm. Here at Duke, I'm excited to grow future startup culture and cement Contrary as the face of that. In my free time, I'm obsessed with all things in the realm of nutrition, health, cooking, or agriculture, so follow me on socials for more of that!
Ayush Jain - Duke
Hi! I'm Ayush, a sophomore at Duke University studying Pharmaceutical AI and Pharmacoeconomics. I conduct AI for drug discovery and repurposing research at the Broad Institute in the Eric & Wendy Schmidt Center under Dr. Anthony Phillippakis. I'm always building in biotech and always down to chat about ML!
Varoon Kodithala - Georgia Tech
Hey! I'm Varoon Kodithala, and I'm a second-year studying Computer Science at Georgia Tech. I'm very interested in LLM-powered automations, especially in the edtech and communications spaces. At Georgia Tech, I help run Startup Exchange, the largest student-run entrepreneurship incubator in the Southeast. In my spare time, you'll likely find me at the gym, watching football, or reading titles in behavioral psychology.