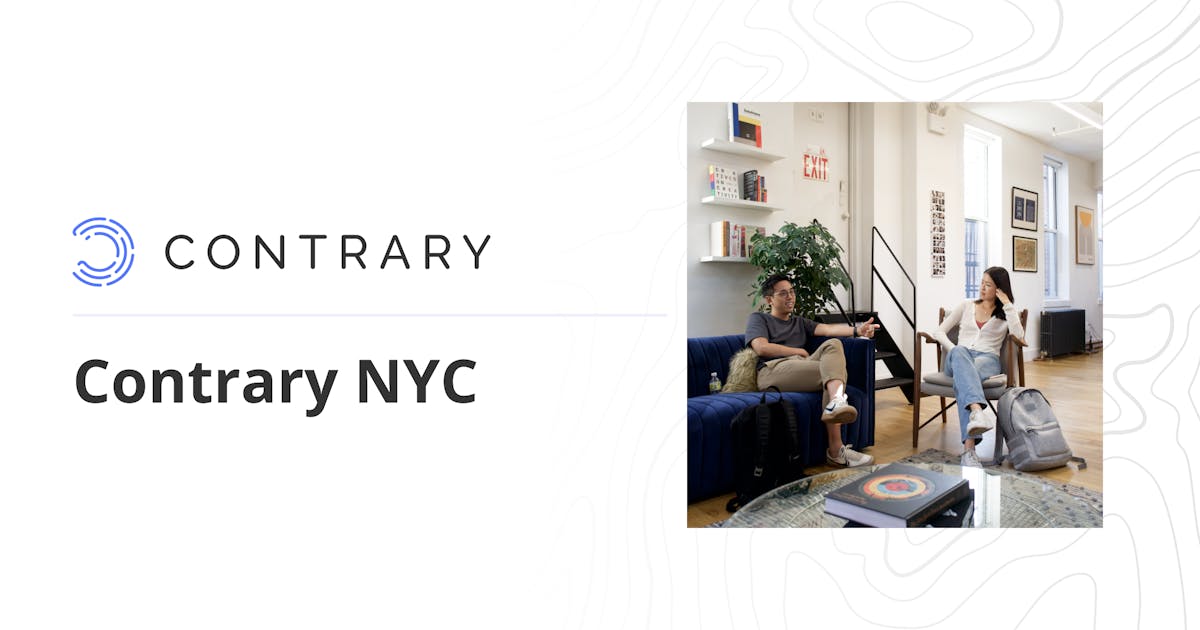 News
For the past five years, Contrary has been guided by the belief that people matter most.
Throughout that time, our most special moments have been in-person. Whether traveling to universities in the early days, bringing our entire community together for Retreat, or spontaneous meetups and hangouts which happen weekly from coast to coast — Contrary is at its best when we're together.
Today, we're excited to announce that we're doubling down on our commitment to in-person collaboration. We're officially launching Contrary NYC, a creative workspace in the heart of the Flatiron District, which serves as a beacon and hub for the city's best technologists, thinkers, and builders.
The next Xerox PARC won't be built over Zoom. It will be forged by brilliant minds coming together in one space, discussing ideas, collaborating with one another, and — most importantly — building.
Why New York? The city is undergoing a rebirth as a stomping ground for some of the brightest minds across many tech disciplines, and we've watched the Contrary community gravitate there at a remarkable pace – in fact, 40% of our entire community is now NYC-based. It's our mission to be at the nucleus of the next generation of exceptional talent, and NYC was the natural choice.
We've already seen remarkable things come out of Contrary NYC following its soft launch earlier this year. Founders have come together, companies have been acquired, and startups have raised tens of millions of dollars from world-class investors and angels. It has already generated over $200M+ in cumulative value, and we can't wait to achieve orders of magnitude more in the coming year.
If you're interested in becoming a member of Contrary NYC, apply here or get referred by an existing member.