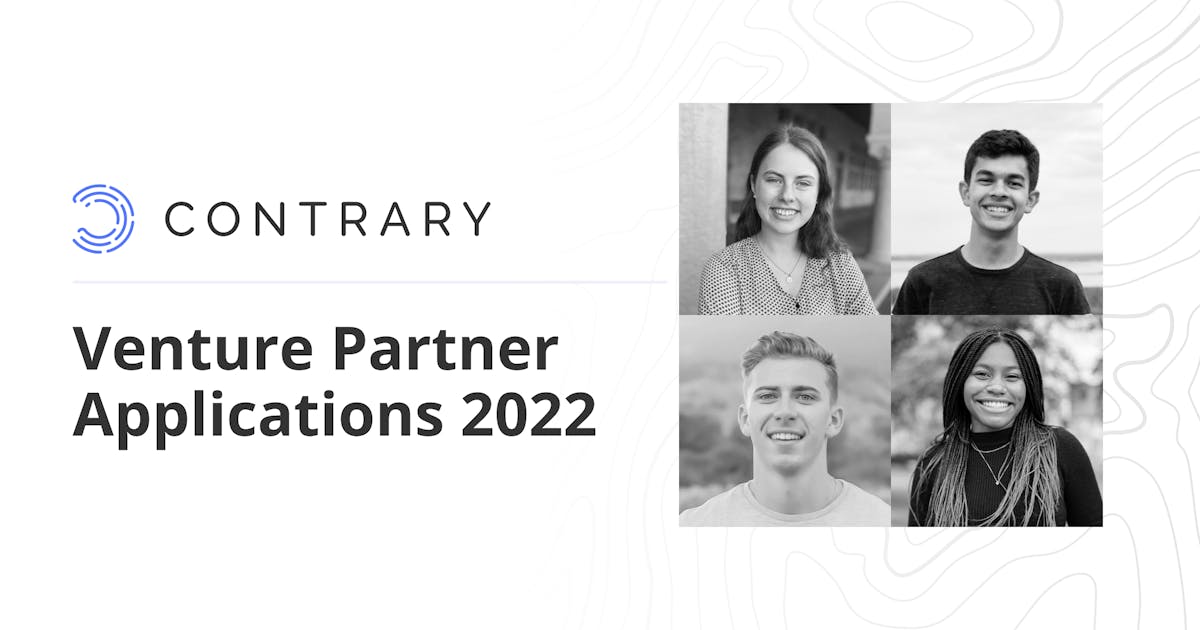 News
Contrary is a venture firm, backed by the world's most iconic entrepreneurs, that identifies and invests in exceptional talent. We invest up to $2M in a small number of startups each year, and work closely alongside them to build enduring businesses.
Each year, we assemble a team of exceptional student Venture Partners (VPs) to work closely with us on the HQ team. They hail from 30 universities across the US and Canada, and are a diverse group of founders, engineers, designers, hustlers, researchers, writers, and everything in between.
As we head into this next school year, we're excited to recruit the next generation of students to join the Contrary family.
Being a Venture Partner
Your role as a Venture Partner is to be the go-to resource for founders on campus. One day you might grab coffee with someone working on a side project. The next day, you might research embedded fintech or enterprise sales software because we're evaluating relevant companies. You'll learn how to make investment decisions, how to tell a story, and how to build a startup.
We look for independent thinkers with diverse experiences -- underestimated backgrounds make for the best VPs! Previous VPs have given up a career as a pro climber to attend college, written apps with 100k+ downloads, and filmed a documentary in the Arctic. There is no specific VP archetype. The only requirements are that you love tech and early-stage startups, and will put in the time and effort to make the most of the opportunity.
All the details you'll need
We're hosting a national info session virtually on Tuesday, September 6th at 5pm PT/8pm ET. We'll give an in-depth overview of Contrary and the Venture Partner role. RSVP below.
We will review applications as they come in, so apply now. The sooner the better. We have a final deadline of September 15th at 11:59pm PT.
We generally prefer people with more than one year of school left, but have made exceptions in the past, especially for MBA students.
Our process generally includes 3 steps: a chat with a member of the Contrary HQ team, a casual interview with existing VPs at your school (if applicable), and a conversation with our founder Eric.
Reach out to vp@contrary.com with any additional questions. We're always happy to chat.
The Venture Partner role is a school-year commitment that lasts until you graduate.
Genuinely, we can't wait to hear from you, and we look forward to reading your applications!
Application is here.
RSVP for the National Info Session here.